Three Human Rights Activists in Prison on Hunger Strike in Solidarity with the Prominent Activist Abdulhadi Al-Khawaja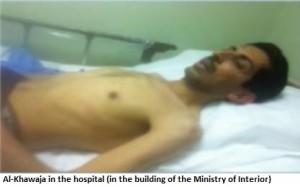 The Bahrain Youth Society for Human Rights (BYSHR) expresses its deep concern on the health of a prominent human rights activist Abdul Hadi al-Khawaja, which was transferred to the hospital, "the Ministry of the Interior" after the deterioration of his health.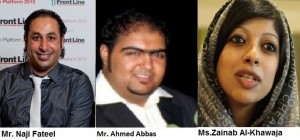 Ms. Zaynab Alkhawaja – a 27 years old Cyber Activist, better known as Angryarabiya on twitter.She was arrested yesterday (April 5, 2012) after Sit in front of the Interior Ministry to demand the release of her father, Mr.Al-Khawaja.
Ms. AlKhawaja, inspired the recent mass hunger strike in Bahrain after going on hunger strike in support of her detained father and prominent human rights activist Abdulhadi Alkhawaja (former MENA Coordinator with Frontline Defenders, former President of the Bahrain Centre for Human Rights and The founder of the Gulf Centre for Human Rights). Ms. Alkhawaja continued her strike for a period of 8 days until she was pressured to end the strike by international human rights organization.Ms.Al-Khawaja was previously arrested for participating in a public protest on 15 December 2011.She reported being beaten during her December arrest.
Mr.Naji Fateel : is a board member of the Bahrain Youth Society for Human Rights (BYSHR) and blogger who has been active in reporting human rights violations in Bahrain.He used his account on Twitter (https://twitter.com/#!/najialifateel) for dissemination of human rights information. He was previously detained between Dec 2007 and April 2009, and has been reportedly tortured. His house was stormed in search for him several times last year following the crackdown on pro-democracy protesters. He was suffering from damage to his spine and was supposed to travel abroad to get medical treatment.

On February 14, 2012, the security forces in Bahrain arrested Mr.Naji Fateel, as he was participating in a march towards the Pearl Roundabout in Manama city, exercising their right to peaceful assembly to this symbolic Roundabout, which was the centre of last year protests.
On April 4, 2012, Public prosecutor issued a decision for the release of Mr.Naji Fateel on bail, but Mr.Fateel refused to get out of jail in solidarity with Al-Khawaja and demanded his release.
Mr.Ahmed Abbas: An active member in BYSHR.On January 1, 2012, Bahraini authorities arrested Mr.Abbas and he has been subjected to ill-treatment.
Mr. Ahmed is currently suffering from the disease.
Ms.Zainab, Mr.Ahmed and Mr.Naji, announced a hunger strike in solidarity with Al-Khawaja and demanding his release immediately.