Bahrain: Human Rights Defender Drugged, Constrained to Bed and Forcibly Fed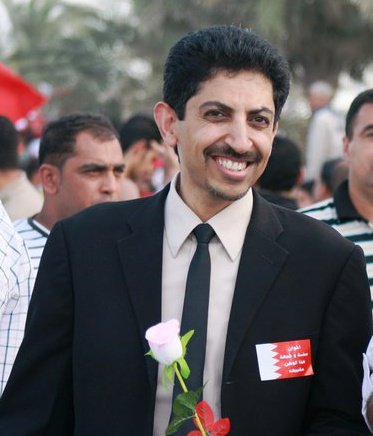 Declaration of Tokyo (1975)"Where a prisoner refuses nourishment …he shall not be fed artificially"
The Bahrain Youth Society for Human Rights (BYSHR) learned today via family members, that Human Rights Defender Mr.Abdulhadi Alkhawaja was drugged, tied to the hospital bed and forcibly fed through a nasoenteric tube this week.
After a brief visit to the activist, family members informed the BYSHR that according to the activist, last Monday after his final call to his wife, he was approached by a nurse who claimed that she wanted to "flush" his IV tube. She inserted a liquid into his IV tube that made him loose consciousness for over 5 hours. When the activist woke up, his room had been changed, his hands and legs were tied to the hospital bed , a tube was stuffed down his nose and he was wearing an oxygen mask. The tube was only removed on Friday when it was blocked resulting in the liquid spilling on Mr. Alkhawaja a number of times.
Mr. Alkhawaja repetitively told the Doctor in charge that he refused the force-feeding and considered it as torture and the doctor refused to end the abuse. The doctor informed Mr. Alkhawaja that if they had not used the force-feeding, the activist would be brain dead. Mr. Alkhawaja advised the doctor that even if they wished to justify the force-feeding, nothing could explain keeping him tied and incommunicado with no contact whatsoever with his family or lawyer. The combination of the force-feeding and the incommunicado detention was considered torture, and Alkhawaja informed the doctor that he will hold him, the hospital as well as the Ministry of Interior responsible.
Mr. Alkhawaja has informed his family that he has agreed to voluntarily take liquids and IV fluids when necessary until his cassation court tomorrow Monday the 30th of April, 2012, but is adamant that he is to continue on his hungerstrike until freedom or death.
The BYSHR considers force-feeding a type of torture in accordance to international human rights norm and is very disturbed that Mr. Alkhawaja was drugged and tied in order to force feed him. It also finds it disturbing that Mr. Alkhawaja's family were kept in the dark regarding his fate for over 5 days. There was no reason to severe contact with Mr.Alkhawaja's family or lawyer.
The BYSHR is also very concerned that the Bahraini authorities would find it appropriate to tell the international community that he was in good health while they were force-feeding him and his life was in danger according to their own physicians.
The BYSHR considers Mr. Alkhawaja a prisoner of conscience, a torture victim (BICI report case number 8 ) and a prominent human rights defender who is in jail solely for exercising his right to free speech and calls for his immediate and unconditional release.
The BYSHR also calls on the Bahrain authorities to be transparent when it comes to Mr. Alkhawaja's health condition and to refrain from making inaccurate and incorrect statements that are meant to misguide international observers and NGO's.