Bahrain: Authorities Facing Human Rights Defenders Aggressively

The Public Prosecution accused Mr. Nabeel Rajab "involvement in inciting illegal rallies and marches online on social networking websites" and "Police investigation has also revealed that the defendant's cyber incitement proved detrimental as they fuelled rioting, road blocking, arsons, acts of sabotage targeting public and private properties, in addition to the use of Molotov cocktail incendiary bombs.The inquiry has also revealed compelling evidence on the defendant's role in instigating, online, acts targeting policemen whilst on duty, leaving some of them injured" Senior Attorney said.
The Lower Criminal ordered Mr.Nabeel Rajab to be held in custody for seven days pending investigation, accusing him of defaming an official authority.
Mr.Rajab, director of the Gulf Centre for Human Rights, and president of the Bahrain Center for Human rights, was arrested upon arrival at the Bahrain airport ( 5 May, 2012). Mr.Rajab was returning from Lebanon where he met the representative of the UN High Commissioner for Human Rights, according to activist Mr. Mohammad Al Maskati "President of the BYSHR", who travelled with him.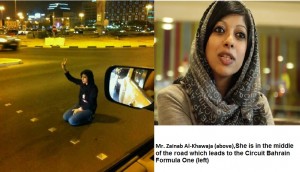 In other cases of attacks on human rights defenders, independent activist Ms.Zainab Al-Khawaja remains detained with five cases in court. Al-Khawaja is due to have three hearings on the 6th of May, one hearing on the 9th and another on the 15th of May. The charges leveled against Al-Khawaja are " More info" :

1-Illegal gathering.
2-Obstructing traffic.
3-Two charges of assaulting an officer.
4-Swearing at an officer.

Ms. Zaynab Alkhawaja – a 27 years old Cyber Activist, better known as Angryarabiya on twitter.
Mr.Abdulhadi Al-Khawaja, former president of the BCHR, main founder of the Gulf Centre for Human Rights, and former regional director for the MENA region at Frontline Defenders, was arrested on the 9th of April 2011. He was beaten unconscious in front of his family, then subjected to severe torture during his detention as documented in case nr. 8 of the BICI report. Al-Khawaja was sentenced to life imprisonment in a military court, in a case that was fabricated and on trumped up charges. His appeal in a military court was rejected in September 2011. On the 30th of April 2012 the Court of Cassation issued a decision to subject the case to another appeal in a civilian court. Al-Khawaja is today on his 87th day of a hunger strike, after he was reportedly held in solitary confinement, drugged and force fed in a very painful process he told his wife when she was allowed to see him last Sunday, 29th February 2012. "More info"