14 Prominent Activist before Appeals Court Tomorrow: Re-trial or Not?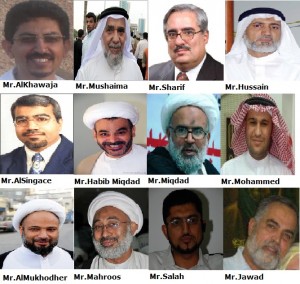 Statement of the Public Prosecution: " A quash of judgment does not result in release of the defendants as long as they were imprisoned when presented in the first trial, because a quash of judgment brings the case to the same condition when it emerged from the Public Prosecution. Whereas a verdict to quash a judgment does not result in or potentiality of giving preference to acquittal on the conviction in the case, but the court may return it after legal error correction, which occurred in the first judgment to adjudicate with the same previous penalty, mitigate, or innocence of the defendant. It retrieves full freedom to issue judgment without being bound by verdict of the First Degree as a new case that did not receive the judgment before. However, it is prohibited to adjudicate with severe punishment as long as the defendant was the appellant before the Court of Cassation"
The Public Prosecution continue, " In the case of re-trial and due to the previous guilty verdict from First Degree Court and the Court of Appeal, which means an agreement and persuasion of two departments' judges on conviction, it is likely to result in a resumption of the judiciary, usually, with reconviction due to the absence of any changes in the case or in its subject or evidence".
According to the law of its establishment, Supreme Court is specialized only to monitor and preserve legal uniformity .Its provided in the Supreme Court law that Cassation is a check on the quality of contested judgments given by the courts of appeal as regards both the application and Interpretation of law.
For further clarification:
1-Confessions of the accused before military prosecutor will not be canceled.
2-Defendants will not be released (due to the first sentence in a military court).
The Bahrain Youth Society for Human Rights (BYSHR) believes that the Bahraini authorities will not re-trial of 14 prominent activist but had published false information in the local media and international.
The defendants were subjected to ill treatment and torture before and after their arrest by the National Security Apparatus, the army and the police.
The BYSHR demands:
1-Immediate release and unconditional of 14 prominent activist due to accusations linked to freedom of opinion and expression.
2-Bring those responsible for torture and ill-treatment to justice.
3-To allow human rights activists, dissidents and pro-democracy demonstrators express their opinions peacefully without restrictions.