Bahrain: Pro-democracy Demonstrators are Facing Charges Related to Terrorism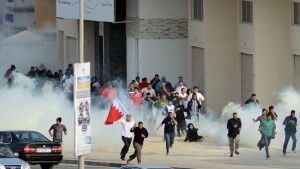 The Bahrain Youth Society for Human Rights (BYSHR) expresses its deep concern regarding use of the law no. 58 for 2006 related to the protection of society against terrorist acts against pro-democracy demonstrators who were arrested during the past weeks.
According to information of BYSHR, more than 30 pro-democracy demonstrators to be held in custody for 60 days pending investigation.
Penal Code: Held in custody for pending investigation must not exceed 45 days.
Punishments in the law of Terrorist "harsh" may reach Death Penalty or Life Imprisonment.
On 25 July 2006, An independent United Nations human rights expert urged Bahrain's Government to amend a new counter-terrorism bill, expressing concern that the law could harm human rights in the country and would be "particularly troubling" as the Kingdom is a member of the newly constituted UN Human Rights Council.(More )