Bahrain: Targeting the President of the BYSHR and other Activists due to their Participation in the Human Rights Council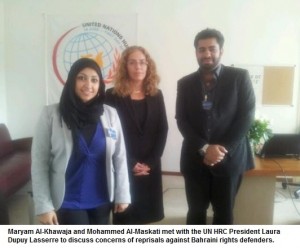 The Bahrain Youth Society for Human Rights (BYSHR) expresses it deep concern regarding the continuous threats against Mr. Mohammed Al-Maskati – president of the BYSHR, where the Bahraini Al-Watan newspaper – a pro-government newspaper – published a photo of Mr. Al-Maskati and the photos of other activists under the title "Al-Watan Reveals the Names of the Participants in Discrediting Bahrain in Geneva".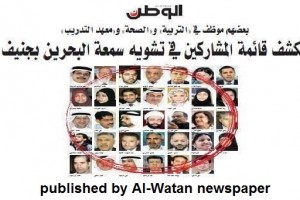 Full article – here
On 23 September 2012, Al-Watan newspaper published a list of names of most of the participants in the human rights council during the Universal Periodic Review of Bahrain and it accused them of "discrediting Bahrain" and it also published their photos on the front cover with a "red circle" around it.
Mr. Mohammed Al-Maskati has been subjected to a two-week continuous campaign against him on social networks (twitter), and he received dozens of phone calls – during his presence in Geneva – threatening him with death if "he smeared Bahrain's reputation in Geneva".
listed below what the anonymous callers have told Mr.Al-Maskati:
1. Bastard and traitor to the country.
2. They have cited to me personal information that includes my home address, the number of the plate of my car. They have told me all this information.
3. They told me that I'm an Iranian agent.
4. They told that on my return from Geneva they will kill me.
5. They said if you talk in Geneva against the state then you will see some thing you have n't seen before.
6. They also put some noisy voices during their calls.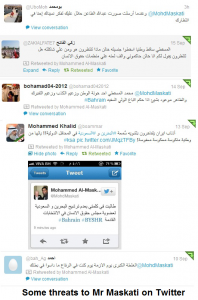 On 17 of September 2012, one member of the Bahrain delegation, followed Mr.Al-Maskati taking pictures as he was engaged in meetings with various Human Rights Council officials.
The Al-Watan newspaper published a picture of Ms.Mariam ِAl-Khawaja ( Acting President of the Bahrain Center for Human Rights-BCHR).
The BYSHR considers that the continuous campaign against Mr. Al-Maskati is because of his cooperation with the mechanisms of the United Nations and considers what is happening to him as a revenge of this cooperation by the Bahraini Authorities.
The Bahrain Youth Society for Human Rights (BYSHR) demands the Bahraini Authorities to stop the threats and organized campaigns to smear the reputation of the prominent activist Mr. Al-Maskati, and it demands as well investigating with the organizations that target the participants in the human rights council.
More information about threats Mr. Maskati :
1- End persecution of human rights defenders in Bahrain now, says international appeal to UNHRC ( http://www.ifex.org/bahrain/2012/09/17/end_persecution/ )
2- Bahrain/Geneva: Concerns on ongoing intimidation against human rights defender Mohammed Al-Maskati ( https://www.frontlinedefenders.org/node/19869)