Bahrain: Suppresses the Demonstrations on the Anniversary of the King's Accession to the Throne and Arrests Activists
December 18, 2012
The Bahrain Youth Society for Human Rights (BYSHR) expresses it grave concern due to the Bahraini Authorities suppressing the demonstrations on the anniversary of the King's accession to the throne (16 – 17 December). Since the year 2000, the Bahraini Authorities have begun to celebrate this day as a National Day. On the other hand, the political opposition movements and the local organizations consider this day as the 'Martyrs Day', since two demonstrators who were calling for a constitutional kingdom died during these days in the nineties.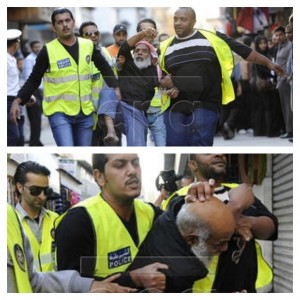 Photo (EPA): An older man during his arrest in demonstrations in Manama
On 16 December, hundreds demonstrated inside the villages of Bahrain calling for the demonstrations in the Capital of Bahrain (Manama) on 17 December in solidarity with the victims of the protests of the nineties and 14 February (what was called the Arab Spring), the Security Forces had used excessive force to disperse the demonstrations and at least 3 people were injured in the face due to using (shotgun), and several others wounded as well.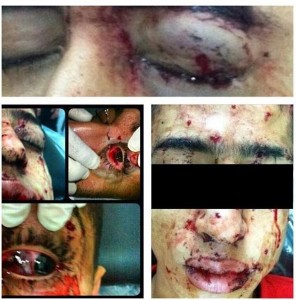 Photo: The Security forces used (shotgun) to suppress the demonstrations on 16 December.
On 17 December, the Bahraini Authorities closed all entrances to Manama, and tried to prevent the demonstrators from gathering, as well as using teargas and stun grenades.
During the demonstrations in Manama, the Bahraini Authorities arrested almost 24 people according to the statistics of the BYSHR, among them 3 women, and the human rights activist Mr. Sayed Yousif Al-Muhafdha from the Bahrain Center for Human Rights (BCHR), and the blogger Mr. Hassan Jaber.The Bahraini authorities released almost 5 protesters later.
According to the lawyers of the BYSHR, those arrested were transferred to Hoora police station to interrogate them about their participation in the protests in Manama.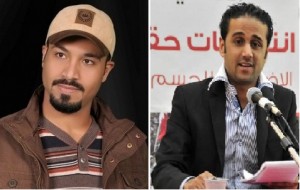 Photo: Mr. Sayed Yousif Al-Muhafdha (Right) and Mr. Hassan Jaber (Left)
This takes places days after the speech of the Crown Prince Salman bin Hamad Al-Khalifa in the International Conference "The Manama Dialogue" about the Bahraini Authorities being ready to engage in a dialogue with the opposition for the stability of the political conditions in Bahrain, and the King's speech about the public liberties in Bahrain.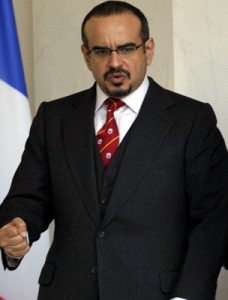 Photo: Crown Prince Salman bin Hamad Al-Khalifa
The Bahrain Youth Society for Human Rights (BYSHR) calls for:
1. Immediately release the detainees from the peaceful demonstrations in Manama, and other villages, and to drop all charges related to freedom of expression and gathering.
2. The Bahraini Authorities have to abide by not restricting peaceful gatherings.
3. The Bahraini Authorities have to put an end to using excessive force against peaceful demonstrators.