Bahrain: Arresting a Prominent Photojournalist due to Publishing Photos that Expose Human Rights Violations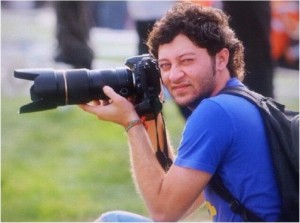 Photo: Mr. Sayed Ahmed Ridha Humaidan, While he was taking pictures in one of the protests.
29 December 2012
The Bahrain Youth Society for Human Rights (BYSHR) expresses its great concern for the arrest of the independent and prominent photojournalist Mr. Sayed Ahmed Ridha Humaidan – 25 year old – who was arrested by the police, dressed in civilian clothes, on Saturday 29 December 2012 while he was with his colleagues in one of the malls.
Details received by the BYSHR indicate that Mr. Humaidan was on that day with his colleagues in City Center Mall – a shopping mall – on 29 December 2012 at 12:50 after midnight, when approximately 15 security men – dressed in civilian clothes – arrested him amid the shopping mall and took him to an unknown destination.
Mr. Ahmed Humaidan had won more than 140 international awards in photojournalism, and he is considered the second most Arab photographer to win awards in photography competitions, as well as being a member in an international organization for photography (such as: Photographic Society of America "PSA" and International federation of photographic art "FIAP" )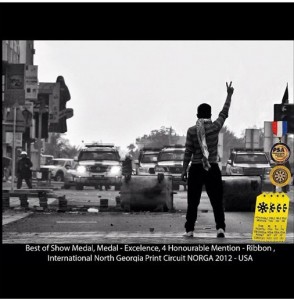 Photo: A photo won an international award
Mr. Humaidan had participated since 14 February 2011 – Arab Spring protests in Bahrain – in exposing the human rights violations against the peaceful protestors, and he had published dozens of photos that display the oppression of the security forces.
The BYSHR expresses its fear that Mr. Ahmed Humaidan has been subjected to revenge and mistreatment due to his role in exposing the human rights violations and especially that no information is available about where he is being detained and that he has not contacted his family or lawyer yet.
The Bahrain Youth Society for Human Rights (BYSHR) demands:
1. Disclosing the place of detention of Mr. Ahmed Humaidan and to immediately release him;
2. Provide the legal and moral protection for independent photographers and to stop imposing restrictions on their peaceful work;
3. Independently and urgently investigate the incident of the death of Mr. Ahmed Ismail who was shot with an anonymous bullet while he was filming the oppression of the security forces towards the protesters. (Refer to the BYSHR statement: http://byshr.org/?p=1028)