Bahrain: Prominent Human Rights Defender Abdulhadi Al-Khawaja to Start a New Hunger Strike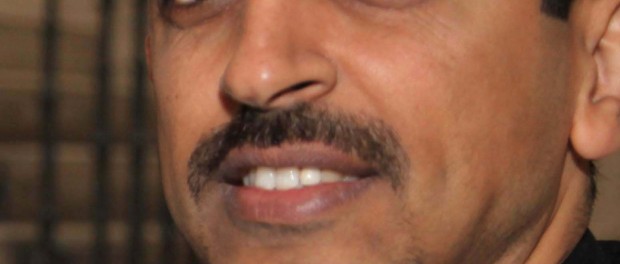 Current Status
On 25 August 2014, Abudulhadi began an open-ended hunger strike to protest his ongoing arbitrary arrest and detention. According to Maryam Al-Khawaja, "The difference between this time and last time is that this time he will refuse to leave the prison to go to the hospital or even the prison's own clinic because last time he was taken to a military hospital, they drugged him and ended his hunger strike by force-feeding him."
On Thursday, 27 August, it was reported that Abdulhadi fainted while conducting prayers in the prison where he is held.
Abdulhadi suffers from a number of medical conditions as a result of his treatment in detention, including cramps in his facial muscles and acute pain in his coccyx as a direct result of torture. In 2014, Mr. Al-Khawaja was also informed that his medical files have "gone missing". He has not received adequate medical treatment necessary to treat his medical conditions nor any rehabilitation for the torture suffered during detention in direct breach of Bahrain's obligations under Article 14 of the Convention Against Torture.
Legal Status
On 7 January 2013, the legal process came to a conclusion for Abdulhadi Al-Khawaja when the highest court in Bahrain upheld the life sentence imposed against him. Abdulhadi was originally sentenced on June 22, 2011 by a military court created under temporary martial law under various charges, including including "organising and managing a terrorist organisation", "attempt to overthrow the Government by force and in liaison with a terrorist organisation working for a foreign country" and "collection of money for a terrorist group". A retrial was granted, but some charges were only slightly changed. The High Court of Appeals was expected to issue its verdict on June 14, 2012, but postponed it without giving any explanation, after refusing to hold any hearing session between October 2011 and late April 2012. Moreover, allegations of confessions under torture have not been investigated during the retrial.
Abdulhadi is recovering his health from the impact of his extended hunger strike, which lasted 110 days. His wife and family are able to visit him regularly and he is educating other prisoners on human rights standards.
Recognition
In 2012, Abdulhadi and his family have been recognized for their courageous human rights work to promote freedom and democracy in Bahrain.
On 20 September 2012, the US organization Freedom House recognized Abdulhadi, Maryam and Zaynab Al-Khawaja with its annual Freedom Award. Maryam Al-Khawaja accepted the award on behalf of the family – watch her speech at the award dinner.
---
Background: Abdulhadi's Arrest, Torture and Trial
Abdulhadi Al Khawaja is a Bahraini human rights defender who was arrested in April 2011, beaten and tortured during the crackdown against those calling for reform.
He was sentenced to life imprisonment after a grossly unfair trial. Despite the recommendation (#1720, p. 423)) in the Report of the Bahrain Independent Commission of Inquiry (BICI) that all those who had been tried by military courts should have their cases reviewed by ordinary courts, this has not yet occurred.
On 9 April 2011, up to 20 armed and masked policemen broke into the family's apartment in the middle of the night. Abdulhadi was dragged down the stairs and was beaten by up to five officers, including suffering kicks directly to the head. He was taken away unconscious. The family was not told where Abdulhadi had been taken or what he was accused of. Also arrested were two of Abdulhadi's son-in-law, who were detained until 24 January 2012.
As a result of the injuries suffered upon his arrest, Abdulhadi required a 4-hour surgery to repair damage to his face. He spent 7 days in hospital, where the surgery left him with permanent damage and metal plates in his face to hold his jaw together. He was then moved to the Al-Qurain Prison where he was put in solitary confinement in a cell measuring 2.5 x 2 meters. Abdulhadi was subjected to physical and mental torture while in detention, including threats of sexual violence, which he tried to make known at his trial.
On 8 May 2011, Abdulhadi was brought by the Military Prosecutor before the National Safety Court to face a trial presided over by a military judge. The trial fell far short of international standards, and also did not meet Bahraini standards of fair trial. Despite repeated attempts to attend the initial hearings, two international trial observers sent by Front Line Defenders were denied access to the courtroom.
On 22 June 2011, Abdulhadi was convicted and given a life sentence on charges of "organizing and managing a terrorist organisation", "attempt to overthrow the Government by force and in liaison with a terrorist organisation working for a foreign country" and the "collection of money for a terrorist group." All of these charges were filed based on emergency legislation that the Bahraini government introduced during the wave of civilian protest that started in February. No credible evidence was presented in the hearing to support any of these charges, and the BICI report conclusively ruled out any foreign involvement in the pro-democracy protests.
The appeal to the National Safety Court of Appeal began on 6 September 2011. During the hearing, the court failed to address trial irregularities raised by Abdulhadi's defence team and flatly rejected the pleas of the defence lawyers to call defence witnesses before the court. One of the lawyers described the court decision as "a dangerous precedent in the country's judicial history."
On 28 September 2011, the National Safety Court of Appeal upheld the life sentence imposed on Abdulhadi.
On 27 October 2011, lawyers for Abdulhadi filed an appeal to the Court of Cassation (Supreme Court) for a legal review of the National Safety Court trial.