A prominent Human Rights Defender Mohammed ِAl-Maskati was sentenced to six months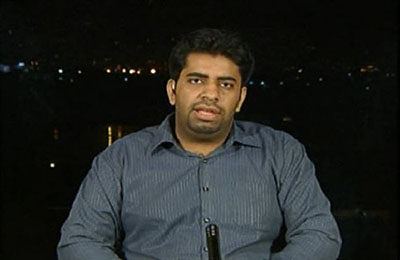 Former president of the Bahrain Youth Society for Human Rights (BYSHR)  Mr. Mohammed Al-Maskati was sentenced to 6 month suspended jail for illegal assembly after the decision of the court on Wednesday, December 31.
Mr. Al-Maskati will be out of jail until the Court of Appeals issued a final decision (On bail 300 USD ).

On 17 October 2012, Mr.Al-Maskati, appeared before Bahrain's public prosecution on charges of participating in illegal protests. A day prior, he had been summoned to Al Hoora police station, where he was kept overnight before being referred to the prosecutor's office. Although he has since been released, the prosecution may raise his case again at any time, which we view as a clear form of intimidation against the activist.
It is important to note that during his participation and oral intervention in the Universal Periodic Review (UPR) on Bahrain in Geneva, in the 21st session of the Human Rights Council Mr. Al-Maskati received continuous threats via anonymous phone calls due to his activism and participation at the Council ( http://byshr.org/?p=1178 ). He was threatened with death if "he smeared Bahrain's reputation in Geneva"
On 13 September, Mr.Al-Maskati delivered an oral intervention before the Geneva council, informing its members of the acts of reprisals to which he was subjected for his participation at the session. He stated, "I have received more than a dozen anonymous phone calls threatening my life and the safety of my family for my engagement here. Nonetheless, I have chosen to speak today because my case is not unique."
Mr.Al-Maskati is a recognized digital security expert and trains human rights defenders in protecting themselves online and offline with International organization.
We believe that the Bahraini government has been emboldened by international silence on its recent arrests and harassment of human rights defenders and may take inaction.
The BYSHR call on the UN High Commissioner for Human Rights to urgently issue a press release condemning these acts and calling for all States to ensure that human rights defenders are able to cooperate safely with the UN human rights mechanisms. The Human Rights Council should also ensure that it raises these acts of reprisals with the State concerned in order to ensure accountability, non-recurrence, and full protection for the human rights defenders involved.