Joint Report: Enforced Disappearances in Bahrain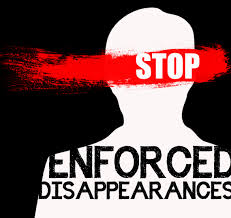 In 2012, the Bahrain Independent Commission for Inquiry (BICI) stated in its final report that it had received 169 cases of enforced disappearances in Bahrain and that more than 1000 cases were submitted to the commission by another party. The commission said that it has received allegations that "persons were arrested and subjected to enforced disappearance without acknowledgement or in facilities the location of which was not disclosed to the detainees or their families." The BICI report stated that victims' fates were unknown for periods ranging between "one day to a few weeks and, in a few cases, months."
The Working Group on Enforced Disappearances (WGEID) has mentioned Bahrain over the past two years for its use of enforced disappearances against arrestees. In its 103rd session on May 2014, the WGEID listed Bahrain as one of the countries of concern where the practice is ongoing.
Enforced disappearance is one of the strategies that has become common to use in Bahrain to spread terror within the society. This strategy has had major consequences on Bahraini society, affecting not only the victims themselves but the community as a whole. Relatives of the many arrestees are subjected to emotional despair. Due to the widespread and serious effect the practice of enforced disappearance has on the whole community, the Bahrain Center for Human Rights (BCHR) and the Bahrain Youth Society for Human Rights (BYSHR) decided to work on documenting and reporting on this serious human rights violation. The aim of this report is to show the severity of the use of enforced disappearance in Bahrain.
During the course of the project, from November 2014 to June 2015, BCHR and BYSHR have documented 241 cases of arrestees and more than 200 cases of detainees, of whom the majority were subjected to enforced disappearances for periods from several hours to up to a month.