Bahrain: Ahmed Khamis, a victim of Security violence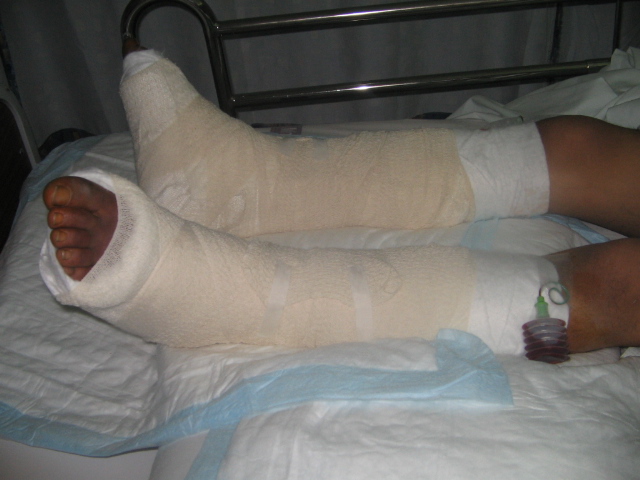 Bahrain, 12 June 2007 Bahrain Youth Society for Human Rights (BYSHR) is highly concerned by the sufferings of the Bahraini citizen, Ahmed Khamis Abdullah, 23, from Al-Malkia village. Khamis was injured during Fighting Riots Forces (FRF) raid aided by security men in civil clothes. The purpose of the break-into process was to separate participants in a peaceful strike – permitted by Ministry of Interior – near Al-Malkia coast. The participants were dispersed at 5:30 p.m. on Saturday 9 June 2007. A friend of Kahmis told BYSHR with the details of physical assault the young man suffered after dispersing participants. He was attacked at 9:30 p.m. at another place far form strike place. He said to his friend: "At 5:30 p.m. FRF fired intensified throttling gas (tear-gas) and security forces fired rubber bullets intensively. This led participants to suffer severe throttling. However, security forces did not stop there; they camped in the venue until midnight. At 9:30 p.m., we were running in an attempt to find a place to hide from security men. They shot rubber bullets on us and Khamis was injured and fell down. Five FRF men and one security man in plain clothes attacked him. The security man ordered them to beat Khamis all over his body. The security forces used wooden and iron sticks to beat him. Two of them climbed on Khamis's back. The security man in plain clothes ordered them to fractionize his knee joints."
Ahmed's friend told BYSHR that:
"The security man in plain clothes said to Ahmed: "we will break your joints in order not to walk in the future". Security forces took Ahmed then to the security center and did not release him until 2:00 a.m. His friend and his brother went to receive him. He was almost dead, according to his brother."
Ahmed's friend told BYSHR that "on Sunday 10 June 2007 Ahmed was subject to surgery in his joints and the doctors replaced his knee bones with iron joints. There were many other injuries all over his body; in his face, thighs, hands, and eye"
Bahrain Youth Society for Human Rights confirms that, according to Ahmed friends and family, Ahmed is not able to walk any more. He is still in hospital because of other injuries in his body.
Bahrain Youth Society for Human Rights call upon Bahraini government to immediately stop using excessive force against peaceful demonstrators and conducting fair investigations into the severe violations committed by special forces which is composed of foreign elements, particularly in Ahmed Khamis case. BYSHR call upon international organizations to urge Bahraini government to establish an independent committee to follow up security forces violations against peaceful youth.
Attachment: Photos for the injured young man, Ahmed Khamis