Malkiaya Incidents, according to eyewitnesses and injured participants of the peaceful sit-in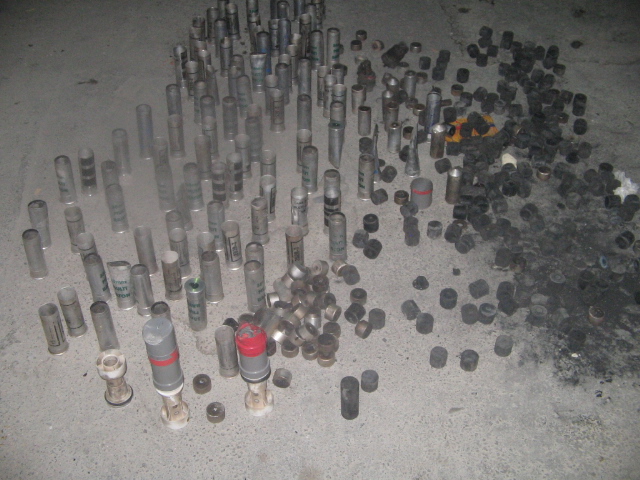 Manama,16 June 2007 Report Content: 1. Introduction to Malkiaya incidents 2. Testimony on security violence by eyewitnesses (documented by Bahrain Youth Society for Human Rights) 3. Testimony on Fighting Riot Forces (FRF) by injured participants (documented by Bahrain Youth Society for Human Rights) 4. Victim, Ahmed Khamis Abdullah replies to Bahraini Ministry of Interior 5. Name list of Witnesses and victims of security forces attack on Malkiaya village 6. Recommendations by Bahrain Youth Society for Human Rights (BYSHR) 7. Photos for victims and injuries Introduction: On Saturday June 9 2007, a NGO launched a sit-in in Malkiaya village near seacoast. Protesters called for eliminating some violations committed by royal family member by possessing a large area of the coast. During the sit-in, some young people attempt to remove the signs of violation. However, Fighting Riot Forces (FRF) shot them with rubber bullets and tear-gas bombs. They used the house of the royal family member as a military base to attack and disperse participants in a random manner. The organizing committee clarified that they got a license form the ministry of interior to launch this sit-in.
Eyewitnesses' testimony:
Fadel Hamza Abdullah
After the FRF succeeded to suppress the licensed sit-in, which took place in Malkiaya coast, we moved into the village. Then, we found five security men walking inside the village. There were only three meters between them and us. They were able to arrest us without shooting rubber bullets. However, they intended to hurt us. I was shot at my back and my friend Ahmed Hassan was shot at head. Our friend Ahmed Khamis was shot in his thigh and fell down. We saw security men surrounding him and beating him brutally. Then we all went back home and Ahmed Khamis stayed alone in the hands of security forces.
Note: the second witness, Ahmed Hassan Abdullah, who was accompanied by Fadel Hamza mentioned that he was accompanied by Fadel Hamza and Ahmed Khamis. He also said that he was shot by a rubber bullet at the back of his head. But he succeeded to run away. Ahmed Hassan also mentioned that he and his friends did not do any riot.
Injured testimony:
Ahmed Khamis Abdullah
I and two other friends were walking in the village, when FRF besieged the area. They shot us with rubber bullets and I was injured at thigh. So, I could not move. Then, FRF forces attacked me and aimed at fractioning my bones. When I was released next night at 2:00 a.m., I was almost dead. My brother took me to hospital. The doctors made a surgery to extract my fractioned bones and substitute them with "iron". I was also injured at face, hands, arms, and back because of FRF men attack at incident location.
Sayed Ahmed Al-Sayed Majuid Al-Sayed Ali
After security forces attacked the licensed sit-in, some clashes took place between citizens and security forces. At that time, I went to my aunts house but I was shocked at 9:00 p.m. to find that security forces are attacking my aunt's house and arrested me with insulting me both physically and verbally. They used construction tools to beat me on my joints. I am suffering severe injuries all over my body. I was held in custody from 9:00 p.m. to 2:00 a.m., then I was released.
Victim, Ahmed Khamis Abdullah replies to Bahraini Ministry of Interior:
Bahrain Youth Society for Human Rights interviewed victim, Ahmed Khamis to express his reply to the press release of the Ministry of Interior stating that "the Ministry of Interior denies what Ahmed Khamis claimed and that he was arrested because of doing riot actions after the end of the strike. He threw stones and burning bottles on security men and resisted them while attempting to arrest them. He was brought to the Department in full health and then he was released after signing a pledge. During his stay in custody, some photos were taken for him in standing and sitting positions. The detained did not even demand to be seen by a doctor. In addition, he was walking on his own legs along these procedures, which continued for five hours. The security forces added that they have the photos which will prove the falseness of his claim"(1)
Ahmed told BYSHR that "the Ministry of Interior response is a natural reaction to the photos and press released published by BYSHR. They want to justify their illegal violent practices against citizens. I can assert the date of my admission to hospital. I have the medical report, which says that I got into the hospital at 3:15 a.m., just after my release. Regarding the photos the ministry has, they helped me to stand up, they brought a food table to help me not to fall down, and they shot photos for me in this position.
No Name Age Injured/witnesses Region
1 Ahmed Hassan Marhon – Rubber bullets injury at right leg, and was unable to move for two days Malkiaya
2 Ameen Ibrahim Khalil 19 Simple bruises because of crashing with security vehicle Malkiaya
3 H.M. 39 His car was broken according to a journalist from Al-Wasat newspaper Malkiaya
4 M.D. 20 Rubber bullet at head Malkiaya
5 Abdullah Mahdy Ahmed – Rubber bullet at left hand and back and lost consciousness because of tear-gas Malkiaya
6 Sadek Jaafar Mohamed Ibrahim 15 Injured by a tear-gas bomb in his hand, after 15 mnts his grandfather's house was penetrated and he was beaten on his legs Malkiaya
7 Ali Mansour Abbass – His house was penetrated and the internal doors was broken before he was arrested Malkiaya
8 Al-Sayed Hashem Al-Sayed Kadem Alwy 24 Asphyxia for children and women because of tear-gas bombs Malkiaya
9 G.S 24 Shooting a sound bomb inside the house and led to injuring him in thigh Malkiaya
10 Hussien Musa Essa Ali 22 Swelling at the back because of a rubber bullet Malkiaya
11 Ahmed Hassan Abdullah 22 Rubber bullet at head at 3 meters length Malkiaya
12 A.W. – The front of his car was broken Malkiaya
13 B.A. – Rubber bullet at his chest Malkiaya
14 Mahmoud Abdul Aziz Abdul Hussein 22 Asphyxia because of tear gas Malkiaya
15 Brahim Ahmed Yahia 19 Rubber bullet at face near the left eye Malkiaya
16 Jasem Mohamed Abdullah Salman – Asphyxia because of tear gas and rubber bullet at left leg Malkiaya
17 Fadel Hamza Abdullah 27 Rubber bullet at back at 3 meters destination Malkiaya
18 Ali Mohamed Ali Fardan 22 Bruises at face and burns in hand and nick Malkiaya
19 A.K 38 Bruises at right leg Malkiaya
20 A.M. Rubber bullet at left leg, an intensive bombing of tear gas at house after breaking house door Malkiaya
21 Ali Hassan Naser Hussien 30 Breaking house doors and entrance windows Malkiaya
22 Sai'd Abdul Aziz Ahmed Burashid 22 Witness Malkiaya
23 Akbar Abdel Rasol Abdel Hussein 27 Fractions at leg because of a rubber bullet Malkiaya
24 Ahmed Khamis Abdullah 23 Bruises at face and hands and fractions at leg joints Malkiaya
25 Alsayed Ahmed Alsayed Megid Alsayed Ali 27 Using building tools to fractionate his leg bones Malkiaya
26 Ali Hassan Yousif 20 Bruises at body Malkiaya
Recommendations By BYSHR:
1. BYSHR call for establishing an independent committee to interrogate the claims of harsh treatment against participants in peaceful events
2. BYSHR call for providing proper financial and moral indemnifications to the injured
3. BYSHR call for punishing security men who attacked citizens during expressing their opinion peacefully
Footnotes:
(1) an extract from Al-Waqt newspaper, 14 June 2007
(2) Review BYSHR report "Ahmed a victim of security violence"