Death of 3 individuals in Police Custody Raises Alarm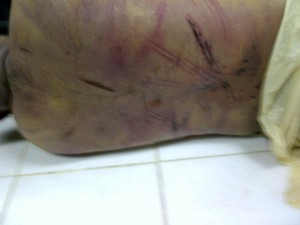 AP photo (here) Death of 3 individuals in Police Custody Raises Alarm Allegations of Torture during Interrogation and Detention Reported by International Organizations Manama-10April, 2011 The Bahrain Youth Society for Human Rights (BYSHR) is highly concerned about the death of two detainees, Mr. Zakaria Rashid Al-Ashiri, 40 years old; a cyber activist and runs a website and Mr. Ali Isa Saqer, 31 years old; who died while in custody yesterday 9 April, 2011. The Ministry of Interior claims that the former died due to illness (sickle Cell seizure), while the latter died after resisting security officials while in detention. The BYSHR has viewed photos that show clear marks on his back, stomach and other parts of his body that seem to be signs of mistreatment. (Attached)
Another detainee who had died previously while in detention was Hassan Makki, 39 years old, who died while in custody on the 4th of April 2011, the ministry also claimed that he had died because of his sickle cell disease. However, after researching this case, a specialized doctor who works with an international human rights organization, reached the conclusion that this detainee had been killed. This conclusion is based on the fact that this man was a carrier of the disease, and had not suffered of any symptoms for years. Therefore, his disease could not have caused his death unless he was subjected to severe conditions.
Many families of detainees are very worried because their family members were not allowed to take their medicine with them. The arrests were made without any security warrant or any identification as to who is making the arrest. This is disturbing as some of the armed, masked men were in civilian clothing.
In light of these developments and the allegations of torture made against the Bahraini authorities, as well as the brutal manner in which Mr. Abdulhadi Alkhawaja was arrested, the BYSHR fears not only for his well-being but also for his life. The fact that he was taken unconscious and bleeding only adds to these fears. The Ministry has not even denied that he is hurt, which is worrying.
According to a recent statement in Twitter by the Foreign Minister Mr. Khalid Al-Khalifa "he – Abdulhadi- was arrested for charges to be brought against him legally. He violently resisted the arrest and had to be subdued". Daughter of Alkhawaja stated that this was untrue and that without knocking, giving reasons or even talking to her father, the masked, armed special security attacked him as soon as they saw him. She continued that during the whole time, her father never raised a hand to resist these men. This was also witnesses by the president of BYSHR who was present during the attack.
The BYSHR calls for:
1. An impartial and independent investigation into the death of the three mentioned individuals taking into consideration previous allegations of torture, and that the findings be made public
2. An impartial and independent investigation into allegations of torture made prior and since the February 14th unrest and that the findings be made public
3. The immediate and urgent release of all prisoners related to the political unrest
4. The immediate and unconditional release of prominent human rights activist Mr. Abdulhadi Alkhawaja and an investigation into the manner and brutality by which he was arrested