Henderson, get out of Bahrain … You have been torturing citizens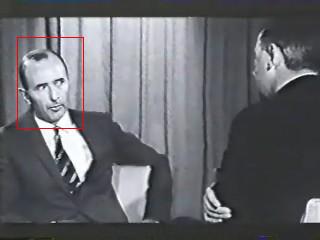 Henderson, get out of Bahrain ... You have been torturing citizens "Officer Ian Henderson, British, Head of Bahraini Security and Intelligence Bureau (1966-2000) tortured citizens horribly. He also exiled dissidents and human rights activists out of country for long years. He caused the detention of many young people for merely opposing state polices during his era. He also killed dozens of young activists during clashes between security forces and citizens calling for human rights," Bahraini victim of torture said. Bahrain Youth Society for Human Rights (BYSHR) learned from many citizens that Officer Ian Henderson is still living in Bahrain despite his shameful record of human rights violations represented in suppressing activists, arresting thousands of citizens, exiling dozens of dissidents, and killing hundreds of young people by bullets or torture.
"Henderson's role was to crackdown Bahraini opposition by all possible means. He used horrible torture methods in Bahraini prisons. He, then, believed that such methods will not fully suppress the opposition. Therefore he used more cruel methods like burning, electric shock, extinguishing cigarettes at prisoners' bodies, etc. Adel Fliefl, another officer accused of torturing citizens was the right hand of Henderson in this," Bahraini human rights activist said.
Many lawyers told BYSHR that there is a decree for law 56 to protect human rights violators in the previous era against trial. The torturers who suppressed, tortured, killed, and exiled citizens will not be tried according to Law 56 of "Total Exemption". This law simply give exemptions to victims, prisoners, and exiled Bahraini citizens! The lawyers asserted that this law actually exempts both the victim and the torturer.
"I call for trying those tortures and human rights violators who adopted methodological torture in Bahrain. Bahrain is witnessing transitional justice period. This could not happen with out putting human rights violators to trial. Many of those torturer officers were upgraded to higher position. We will not forget those who caused us severe physical and psychological pains," a victim of torture who is still suffering torture consequences up till now said.