Bahrain: An official document certified that the dismissal of employees because of the freedom of opinion and expression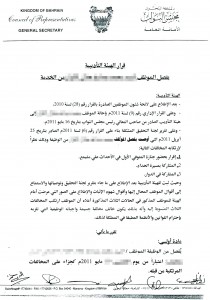 An anonymous source leaked an official document –Attached- issued by Council of Representatives "Parliament" on the dismissal of employees from the Council.
The Document is a formal dismissal letter of one of the employees.
The employee was accused of :
1-Attend the funeral of "Ali Mushaima"
2-Participated in the funeral march.
3-Participated in the Pearl Roundabout.
Ali Abdulhadi Mushaima: The first person died because of the protests.Died on February 14 because of Bird shotgun wounds.
On the 2 of May 2011, Head of the Civil Service Bureau (CSB) Mr. Ahmed Al-Zayed stated in the media that " The CSB denies the dismissal of employees in the public sector" (Ref: http://www.albiladpress.com/news_inner.php?nid=97913&cat=1 )
Civil Service Bureau (CSB) :Institution responsible for public sector employment.
On the 23 of May 2011, the Minister of Social Development, and the Minister of Health Mrs. Fatima Al-Balushi stated in an interview with "LBC- T.V Channel" that "Dismissal were not due to participating in the protests".
Bahrain Youth Society for Human Rights (BYSHR) is deeply concerned about the freedom of opinion and expression in Bahrain.The right of the employee in the public sector to adopt a political opinion must protected by local laws.