Bahrain: prisoner of conscience in danger because of his hunger strike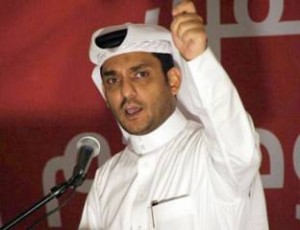 Bahrain Youth Society for Human Rights (BYSHR) is deeply concerned about Mr. Mohammed Albuflasa (a former Bahrain Defence Force officer), 36 years old.
"Mohammad went on hunger strike two days ago( since 1 June, 2011) because of arbitrary detention" His family has informed the BYSHR.
Towards the End of February he had been presented before the military court without a lawyer and the military court charged him with the following:
1- Engage in political activity
2- Participate in the gathering
3- Incitement against the regime
Court decided to sentence Mr. Albuflasa to two months imprisonment.
He is sentence was due to end on 14 April, 2011 but the military prosecutor extended his detention for 45 days till further notice which often means to an unknown period without any new charges or clarification.
More info : http://byshr.org/?p=464