Bahrain:Medical Doctors before a military court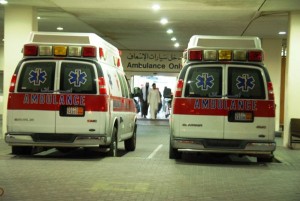 Bahrain Youth Society for Human Rights (BYSHR) is deeply concerned about summoned at least 7 Medical Doctors by National Safety court ( Military court ).
Tomorrow ( 5 June, 2011 ) , The first hearing session for:
1-Dr. Fatima Haji, rheumatologist.
2-Dr. Ahmed Jamal, former head of Bahrain Doctors' Association.
3-Dr. Nabeel Tammam, ENT surgeon.
4-Dr. Zahra' Alsammak.
5-Dr. Nada Dhaif.
6-Dr. Jalila Al-Aali, endocrinologis.
7-Dr. Nehad Al-Shirawi, ICU consultant (specialist).

Bahrain Youth Society for Human Rights did not get information about the trial of doctors and nurses " Still in custody".
( Ref: http://bahrain.phrblog.org/the-missing )
On 3 May 2011 , Bahraini authorities announced charges against the medical staff ( Ref: http://byshr.org/?p=410)
An official document certified that the transfer of medical equipment from the Salmaniya Hospital was done legally ( Ref:http://byshr.org/?p=493)