Bahrain: The Medical staff are facing 12 charges tomorrow before a military court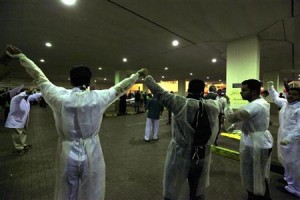 Bahrain Youth Society for Human Rights (BYSHR) is deeply concerned about trial at least 47 Medical staff before a military court (National Safety court)
Today ( 5 June, 2011 ), Medical Doctors court hearing is adjourned till tomorrow ( 6 June 2011 ) (Ref:http://byshr.org/?p=558)
The recently released doctors were asked to go to the office of Criminal Investigation tomorrow at 6:30 am and then transferred together- along with the medical staff, which are still in custody – to the military court.
Bahraini authorities announced: 24 Doctors and 23 Nurses will facing the charges.
On 3 May 2011 , Bahraini authorities announced charges against the medical staff:
1. The inexcusable refrain from aiding people.
2.The embezzlement of public funds.
3.physical assault on other.
4. Assault leading to death.
5.The possession of unlicensed weapons and ammunition.
6. Refraining from carrying out their employment duties, in aims of hindering medical work, consequently endangering people's health and lives.
7. The attempt of forcefully occupying a public building.
8.Promotion to bring down and change the regime by illegal means.
9. Accused of inciting hatred against the governing regime.
10.Promoting sectarian hate.
11.Spreading false news and rumours that harm the public interest.
12.Participating in unlicensed protests and rallies.
Note: Bahrain Youth Society for Human Rights, had translation of the charges from Arabic into English.Terms may not be (legal terms)
An official document certified that the transfer of medical equipment from the Salmaniya Hospital was done legally ( Ref:http://byshr.org/?p=493)