The death of a child because he was injured in protests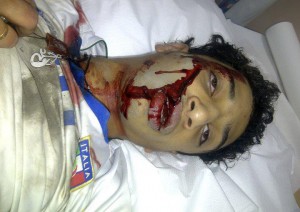 Ali Jawad Ahmad 14 years old Bahraini has been killed this morning.
As witnesses told Bahrain Youth Society for Human Rights (BYSHR) that Ali was participating in a peaceful anti government march early morning today in Sitra . Ali shot directly with tear gas from Bahrain Security forces when they used excessive force against the demonstrators.
One of the victim's relative said that he was taken immediately to the Sitra's health center, he lost his life at 9:37 am (Approximately)
Security forces surrounded the Health center of Sitra to prevent the demonstrators.
BYSHR is urging the authorities in Manama to start an investigation and bring the perpetrators to justice.