Prominent Rights Activists and Opposition Leaders are in Hunger Strike in detention Protesting against the Brutal crackdown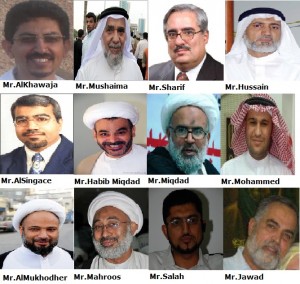 In solidarity with the Pro-democracy Protests and protesting against the brutal crackdown, Prominent Human Rights activists and Opposition Leaders Yesterday (September 24, 2011) announced an open hunger-strike from their prison in Gurayn (Military Prison).
The hunger strikers are demanding the immediate release of women who were arrested in protests (parliamentary elections September 23-24, 2011).
Bahrain Youth Society for Human Rights (BYSHR) expresses its concern about the situation of detainees in Bahrain after they started an open hunger strike.
The hunger strikers:
1-Abdulwahab Hussain Ali ( life sentence imprisonment)
2-Ibrahim Sharif Abdulraheem Mossa ( 5 Years imprisonment)
3-Hassan Ali Mushaima.( life sentence imprisonment)
4-Abdulhadi Al Khawaja ( life sentence imprisonment)
5-Abduljalil Abdullah Al Singace.( life sentence imprisonment)
6-Mohammed Habib Al Safaf. ( Mohammed Habib Miqdad) ( life sentence imprisonment)
7-Saeed Mirza Ahmed. ( Saeed AlNouri) ( life sentence imprisonment)
8-Abduljalil Mansoor Makk. (Abdul Jalil Miqdad) ( life sentence imprisonment)
9-Al Hurra Yousif Mohammed.( 2 Years imprisonment)
10-Abdullah Isa Al Mahroos.( 5 years imprisonment)
11-Salah Hubail Al Khawaj.( 5 years imprisonment)
12-Mohammed Hassan Jawad.( 15 years imprisonment)
13-Mohammed Ali Ismael. ( 15 years imprisonment))
14-Abdul Hadi Abdullah Mahdi Hassan ( Abdulhadi AlMukhodher) ( 15 years imprisonment)
More information about the hunger strikers ( Click Here)