A military court has sentenced three well-known athletes because of the pro-democracy protests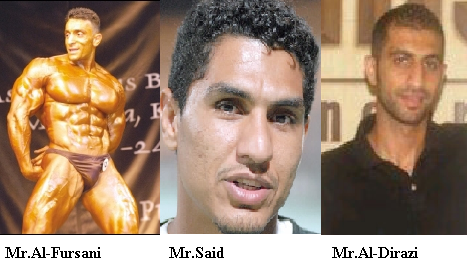 A military court in Bahrain today (December 4, 2011) has sentenced three athletes to one year in prison for taking part in pro-democracy protests.
The three were working in the Bahrain Defence Force (BDF)
Athletes:
1-bodybuilder Mr.Tareq al-Fursani, a gold medallist in several Asian championships.
2- Mr.Ali Said, a goalkeeper in the national soccer team. ( More info : Bahrain TV presents confession of the national team goalkeeper)
3-Mr.Mohammed Hassan al-Dirazi, a member of the national basketball team.
Others in the same case:
1-Hameed Ali Ahmed.
2-Hassan Hameed Hassan.
3-Mohammed Zaher.
4-Abdulhadi Mahdi.

Bahrain Youth Society for Human Rights (BYSHR) expresses its deep concern due to siege of opinion and freedom of peaceful assembly