In protest to distorted Press Release on His Health Condition: Human rights Defender Abdulhadi Alkhawaja Refuses Medical Check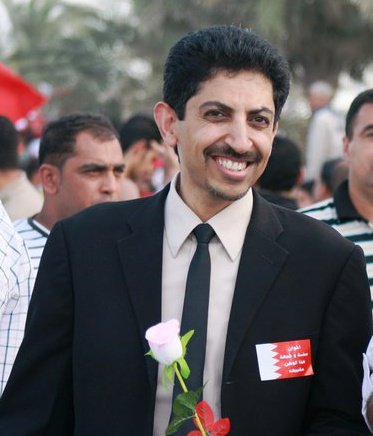 The Bahrain Youth Society for Human Rights (BYSHR) has recently learnt that on the 6th of March, two individuals who only identified themselves as Dr. Fatima and Mohammed met with Human Rights Defender Mr.Abdulhadi Alkhawaja in prison. The doctor told him she will be administrating a checkup and consequently Mr.Alkhawaja allowed this. The results were, low blood pressure, low blood sugar and low temperature. When they started asking him questions unrelated to his health, Mr.Alkhawaja asked them to identify themselves properly or he would refuse to answer their questions. They refused and walked out.
Mr.Alkhawaja was surprised to see a press release days later based on the testimony of a Mr. Mohammed Alahmad – Pro-government journalist- from the GONGO organization, stating that his health was fine and the that he was being treated well. The press release was released by the Ministry of Human Rights.
In protest to the manner by which the prison and the Ministry behaved, Mr.Abdulhadi Alkhawaja decided to end cooperation with the hospital clinic by refusing medical check-ups. He insisted that they either be honest in relating information regarding his health or he would refuse to do the routine checkups. Mr.Alkhawaja also started refusing water and glucose which resulted in the deterioration of his health and he was unable to concentrate. After three days, Mr.Alkhawaja started drinking water and taking glucose once again.
On a different note and in contrast to what the Ministry of Human Rights alleges, the Danish foreign Minister stated to a Danish Newspaper that he was worried about Mr.Alkhawaja's health after a representative of the Danish embassy met with the activist last week.
The BYSHR demands that:
1. The international community exerts more pressure in order to secure the immediate and unconditional release of human rights defender Abdulhadi Alkhawaja before there is any further deterioration in his health
2. That the Ministry of Human Rights allow credible, international human rights organizations who have repeatedly requested to see the activist access to him in order to be able to adequately evaluate his health situation
3. That the Ministry of Human Rights refrain from using GONGO's in order to discredit claims made by credible human rights activist
4. That the Ministry of Human Rights release accurate and precise information regarding human rights defender Mr.Abdulhadi Alkhawaja's health situation